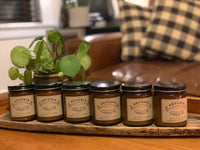 Candles you can feel good about.
Wax from American-grown soy beans, phthalate-free fragrance and essential oils, cotton wicks. We like to keep things simple and our candles are hand-crafted in small batches using premium ingredients. Shopping local means no compromise in quality.
It also supports the community - we donate 10% of our profits to causes we care about, split 50-50 between local and international organizations. Subscribe to our newsletter to learn more about who we're supporting this month, or contact us to recommend an organization that's important to you!